People ask us where we get our online slots RTP data and we get the majority of it from thepogg.com. ThePOGG has industry connections with many online casinos and many of the online casino software providers. They sometimes have exclusive access to RTP data that can't be found anywhere else online. What's great about ThePOGG's slots listings is their filters where you can search for slot games and select a range of RTP values. So if you are a player that wants only the higest RTP slots you can search for a range of 98 to 100 in the RTP boxes and search. Likewise you can also search for games that have 85% or lower RTP and this will give you a list of the worst slots that exist and ones you shouldn't play at all. Players can use the search filters to find slots by RTP values here.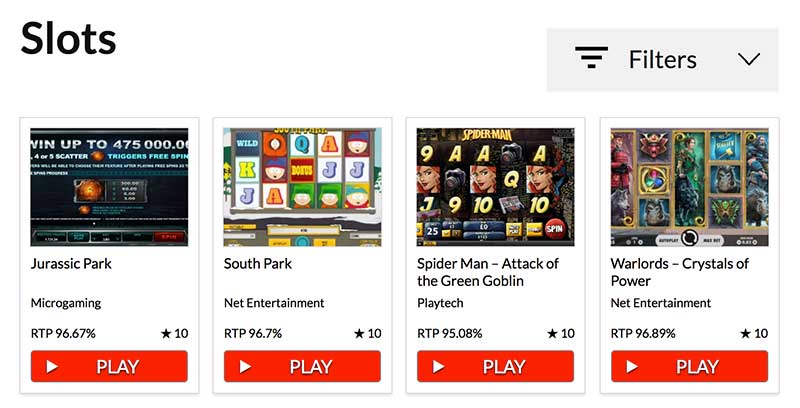 RTP & House Edge Explained
RTP stands for Return To Player and the inverse of that is House Edge which is sometimes listed as just HE. Here are a few examples to explain how they all work.
An RTP of 95% represents a house edge of 5%
An RTP of 97% represents a house edge of 3%
An RTP of 90.5% represents a house edge of 9.5%
Using the 95% RTP example this means that for every $1 wagered, the player retains 95% of that bet on average or the house gains 5% of that bet on average. So if a player wagers $1 on a slot and does this 5 times, they will have wagered $5 and they should have on average $4.75 and the house edge associated should have accumulated $0.25.
The slots ratings really come in handy for players that want to know what games have higher house edges so they can avoid them. The lower the house edge, the better as it means you'll lose less on average. Most online slots have an RTP of 96% to 97% where 98% and higher is rare and 95% and lower are games players should really avoid.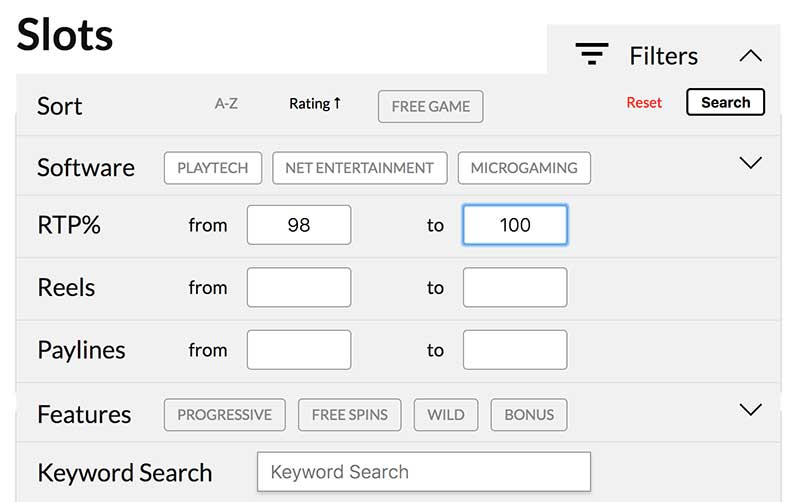 Online Slots vs Land Based Slots
Players might not know this but online slots behave very differently than the slots you see at land based casinos. For starters, there are many online slots softwares that make slot games exclusively for online casinos and you won't find their slots at any landbased casino. Likewise there are some slots manufacturers that produce slot games and don't make them online at all. There are other companies that do both and these are companies like Novomatic or IGT.
Tips For Playing Slots Online
These tips can help you earn a bit more money and also stop you from losing too much of it as well.
Avoid pop culture & movie themed slots: Avoid movie themed slots including ones of game shows and popular cult figures including music and band themed slots. These slots have to pay royalties for the user of their name and characters so this means the slot will naturally have a higher built in house edge.
Play the maximum number of coins: You'll want to ensure you are getting the max jackpot. Some progressive slots won't pay out if you are not wagering with max coins.
Slots Terminology & Glossary
There are many words, phrases and acronyms used for talking about slots and online slots and we explain them as best as we can here including the common ones you might see.
Variance - variance in a slot game is used to talk about the swings you can get. So for example a slot game with a high variance might mean you'll lose most of your bets frequently but you'll compensate them for a large win. A game with a lower variance means you won't get these extreme results and you'll slowly lose your money to the house edge but on average players would say your gameplay lasts longer on lower variance slots.
Reels - reels are the columns you have on a slot game. Typically slots are either 3 reels, also known as classic or are 5 reels, also referred to as video slots
Classic slots - these are usually referring to 3 reel slots
Video slots - these are usually referring to 5 reel slots
Progressive slots - these are slot games that have a jackpot that accumulates either over time or by the number of bets the game receives where a portion of the wager is sent to a pot where one lucky winner could hit it
Progressive Jackpots - same as progressive slots