Last October 23, 2017 saw NetEnt's release of the Planet of the Apes video slot. In association with 20th Century Fox, the company , the company released the premium to much fanfare as the latest premium title in its already formidable portfolio. The video slot is based off of the hugely popular Planet of the Apes franchise and incorporates elements from two of its latest films: Rise of the Planet of the Apes and Dawn of the Planet of the Apes.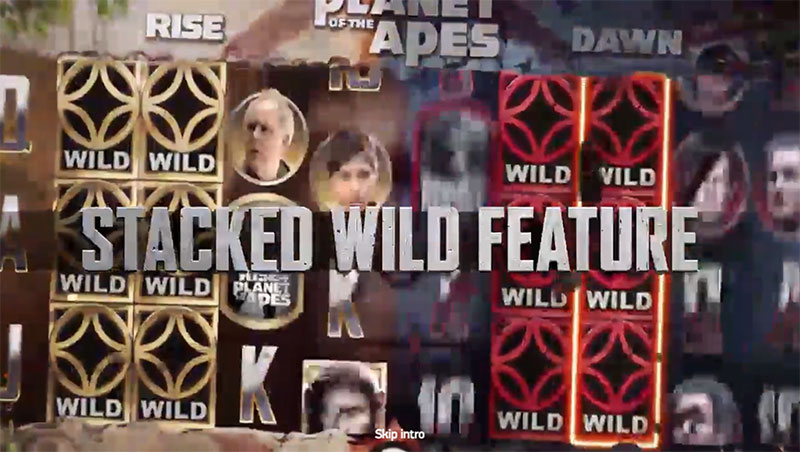 2 Reels in One
What's great about Planet of the Apes is its unique design and rewarding gameplay features. The video slot has two play areas that both have 5 reels, 3 rows, and 20 betting lines. Each play area has different symbols and special features that integrate elements and characters from the movies they are based on. The play area on the left uses characters from Rise of the Planet of the Apes as inspiration for its symbols. As for the symbols on the right play area, these are derived from Dawn of the Planet of the Apes' main characters.
Unlike Anything You've Ever Played Before
When it comes to gameplay features, players will undoubtedly enjoy what Planet of the Apes has to offer. Both the Rise and Dawn play areas provide players with their own free spins, Wilds symbols, Scatters, and Stacked Wilds. Other than this, the video slot also has a Dual Feature that would allow for greater winnings through a temporary transfer of symbols between the two play areas.
Banking on the Planet of the Apes Franchise's Marketability
NetEnt Chief Product Officer Simon Hammon noted that the company was confident that the Planet of the Apes video slot won't disappoint players and fans alike. The company had purportedly invested time and resources on the video slot for months. Employing the top experts in the industry, the company had wanted to create a title that did justice to one of the most popular intellectual properties in the past half a century. Hammon noted that the quality of this new title further strengthens the company's already impressive portfolio of casino games. In addition, he pointed out that operators would do well to get the title on their platforms right away.
The value for an operator with this 50-year series of films is the loyal audience that spans over generations -- meaning it has the potential to attract a broad range of players.
Worth Trying Out
As of this writing, Planet of the Apes has been around for close to a month and has been warmly accepted by players the world over. Operators who are using NetEnt casino gaming software have also wasted no time in getting the title on their online casinos' libraries. Thanks to this, the video slot is now readily available on numerous online casino brands. Players who want to try it out could check online casinos such as King Billy Casino, SlotsMillion, Bob Casino, Argo Casino, and many more.