Play VR Slots
The real Virtual Reality experience came to us in 2015 through SlotsMillion casino. If you have been lucky enough to test drive a VR casino like SlotsMillion's, then you'll realize that VR isn't just a fad and it will be here forever. Microgaming is looking to get in on the action as they demo'd their VR Roulette at the Totally Ice Gaming conference in 2016. Even though we have more casinos wanting to chase SlotsMillion, it will still take until 2017 before we see any competitors.
Fastforward to 2019 and still, SlotsMillion is the only real casino offering virtual reality games and a VR casino. Why is this section of online casinos not taking off? Who knows but it seems that casino operators don't want to invest in something that still doesn't have mass market adoption, that is virtual reality computers and headsets.
VR Casino at SlotsMillion
To play the VR casino at SlotsMillion it makes it easier if you signup and have your username and password ready rather than signing up inside the virtual reality room. You'll need a video game controller or to use your keyboard to navigate and play the slots. You can walk up to any slot game and push a button to activate it and sit down to play that slot game. You'll see other players at the casino and can view the outside world which takes place in a unique but large city.
SlotsMillion is currently powered by Unity 3D VR engine but might be replaced with Unreal engine in 2017. The casino remains the only one to offer virtual reality slots to play for real money. You'll have to run Windows 7, 8 or 10 to get the VR room working. You can still play the casino without googles and just watch everything through your monitor but trust us, it's not even close to being the same.
Jack and the Beanstalk Virtual Reality Slot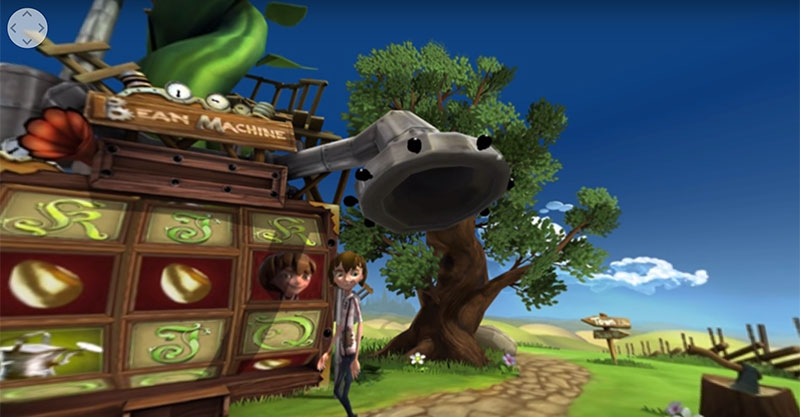 Yes, Net Entertainment did go out of their way to make the first ever virtual reality slot game. Jack and the Beanstalk was already one of the most popular slots of all time but in 3D format it's just unreal. Once this slot is given a chance to thrive, we can expect more from Netent to give us these unique virtual reality slot games.
Best VR Headset
We have our favourites of which VR headsets we like. So far Oculus Rift is one of the favourites. The HTC Vive is also one of the sweetest headsets around. We are hoping the Oculus Go will bring the VR casino experience to everywhere as it is currently the cheapest headset and is all processed through your phone.
Oculus Go
The Oculus Go is a sweet headset. Even though it is fairly low cost, don't let that make you think it isn't a good headset. The video and graphics are amazing and if you have a powerful enough phone, you will be in shock at how smooth the graphics are. This is truly what is coming around the corner for VR casinos!
If you can't make up your mind on which headset you want to get check out PCMag's list of VR headsets for 2017:
https://www.pcmag.com/article/342537/the-best-virtual-reality-vr-headsets
Oculus Rift
The Oculus Rift headset is still considered one of the leaders around. It is no doubt the most popular headset available.
HTC Vive
The HTC Vive is another quality headset, maybe a bit more expensive but has rave reviews to date.
VR ready computer
Now that you have the googles to make magic happen, you'll of course need a computer capable of producing at least 90 frames per section (fps) to give you that high quality high definition real experience.