The most exciting online video slots to play in 2018
Video slots have become some of the most popular and exciting form of slots games for online casino players throughout world. Thanks to advancements in technology, online casino slots have become fantastically enthralling. They're now played for entertainment purposes and are fun and lively - video slots can often play like a video game. Only, unlike video games, video slots and online slots can help you win huge jackpots.
There have been countless stories of ordinary online casino players who have hit the big time playing on video slots online. Video slots offer players the chance to win tens of thousands of dollars, what other hobbies are there out there that offer you the chance to actually win money?
Online slots and video slots are constantly evolving and becoming more exciting - it really is a golden generation in slots games and online casinos in general. Online casinos are currently investing so much into their games in order to make them as aesthetically pleasing and as fun to play as possible.
So without further ado, here are the top five most exciting video slot games to play in 2018.
Raging Rhino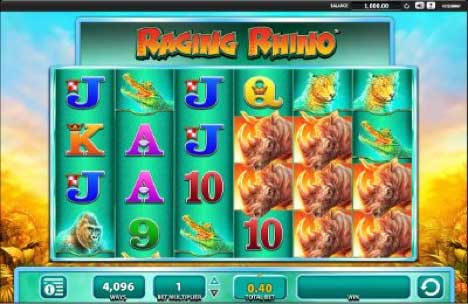 Raging Rhino is set within the mysterious wilds of Central Africa with the native African Rhino playing a large part in the gameplay. As you're playing this slot, be prepared to encounter a variety of other animals native to the African wilderness such as crocodiles and gorillas.
However, if you want to win big then the raging rhino is the animal that you want to see on your screen. The Raging Rhino symbol combined with wild symbols can lead to some extremely large wins.
Tip: Be patient. Raging Rhino is a high variance game so for those big jackpots, you must bide your time and stick at it.
Big Bad Wolf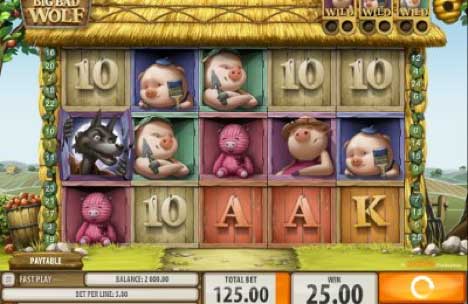 This video slot is based on the children's tale of the three little pigs and the big bad wolf. In this take, the three little worker pigs do battle against the wolf as they look to stop him from blowing their houses down.
In a twist to the tale, however, you are on the side of the wolf in this video slot. Blowing down the house will mean free spins and multipliers so sorry little piggies but the big bad wolf is coming to eat you.
Tip: Collect Moon symbols for free spins and multipliers.
Book of Dead
Get ready to immerse yourself into the sights and sounds of ancient Egypt now. Book of Dead is based on the ancient Egyptian book of the same name. Iris and Anubis symbols will give you that Ancient Egyptian feeling as you play this video slot.
The most important symbol in the game for the player is the black Book of the Dead which acts as both the wild and the scatter – three of them visible will activate the free spins. Book of Dead is one of the best looking video slots out there and due to its medium level of variance, you will not have to play for too long before you are rewarded with some free spins and juicy jackpots.
Tip: Keep playing to find out the secrets of Ancient Egypt.
Fruit Warp
Fruit Warp is unlike other video slots in the fact that it does not have any paylines or ways. In Fruit Warp, nine fruits will appear suspended in the air, if three or more of a single fruit appear, you win.
The developer of this particular video slot is Thunderkick who have applied a similar concept as featured in Fruit Warp to several more of their games.
Truly, Fruit Warp is unlike any other video slot that you have likely played before. Try it out, you will not be disappointed.
Tip: Cherries are your friends.
Gonzo's Quest
Gonzo's Quest contains almost every video slot feature there is and it is easy to see why it became one of the first ever virtual reality slots games.
Gonzo's Quest is set centuries in the past, on a ship captained by Captain Gonzo. Explore shipwrecks, encounter mystical sea creatures and attempt to hit the jackpot on one of NetEnt's most popular video slots.
Tip: Generous scoring structure will ensure that when you are rewarded, that reward will be very worthwhile.