Statistics tell a story. Under the right set of conditions, it's possible to tell a more compelling story with numbers and figures than with words.
KPIs in a nutshell
KPIs (key performance indicators), or key performance metrics, provide businesses with the power to measure performance, while providing valuable insights and actionable information.
KPIs are Key Performance Indicators that measure the outcome of casino affiliate campaigns. These KPIs help casino affiliate managers to track their progress and goal achievement.
Key Performance Indicators (KPIs), are measurable values that indicate how effectively an organization is achieving its objectives. These values are used to evaluate performance, and are used to drive change in an organization to increase overall organizational performance.
How to track your KPIs?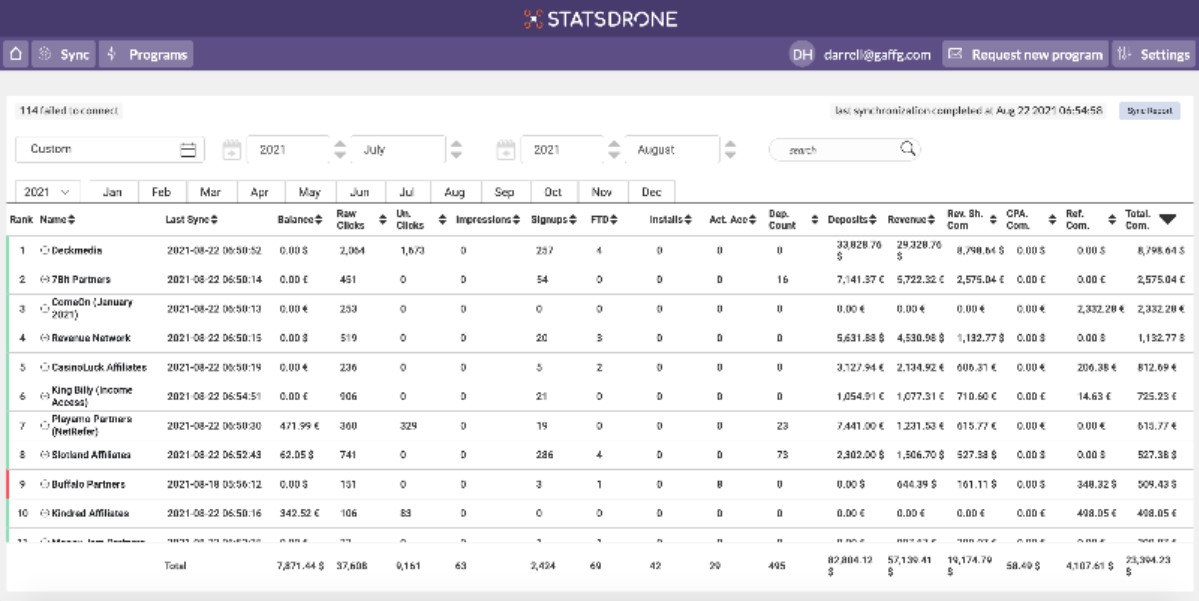 StatsDrone sports the most efficient KPIs, it allows you to download statistics from your affiliate programs, affiliate networks and advertising networks. With StatsDrone in mind, you can start to focus on the performance metrics that are most important for your success.
StatsDrone, as an affiliate stats tracker, allows you to view statistics on sign-ups, FTDs, revenue, CPA commissions and account balance easily and simply
StatsDrone collects the most essential metrics to help you better manage your website.
The most popular metrics for our affiliates are:
This is an essential metric because it shows how many total and active users your platform has. It is very critical. With this information, you can organize and clean up your database, by keeping track of your leads and determining if they are relevant to your business.
The FTD-First Time Deposit is a frequent KPI for online gaming firms. This is critical in creating a user experience that allows players to become attached to the game. The value of the first time deposit and any subsequent deposits (if any) is a good indicator of a customer's potential lifetime value.
Revenue growth is used to determine if sales are rising or decreasing over time. This way you will be able to know how much your website has grown. ;)
The cost-per-acquisition, or CPA, is a set commission paid for each depositing player. It depends on the market and type of traffic.
Affiliates must log into their accounts to see any activity or balances. StatsDrone also gathers the balance amounts from each account and provides a grand total. This allows affiliates to determine outstanding balances, programs that need an invoice or that a withdrawal can be made. Without this, each affiliate would have to find individually.
In summary, we have looked at the KPIs that you should consider when analyzing your casino affiliate programs. You can be sure that the metrics you choose will depend on the goals you have for your programs, but now you know which KPIs are the most important and how StatsDrone can help you manage them easily.