With Halloween fast approaching, online casino operators are expected to ramp up on their promotions to commemorate the celebration. Players excited for this celebration can expect these promotions to involve bonuses, free spins, and possibly even cashbacks. Additionally, operators might come up with offers on their Halloween-themed casino games. Even without these offers though, Halloween slots are still worth playing (especially during Halloween). Not only are these titles apt for the celebration, more often than not, they also offer great graphics and (more importantly) rewarding gameplay.
Of course, not all of these slots are made the same or have the same features. For this reason, players might find choosing a Halloween slot or slots to be a little overwhelming. Thankfully, we have a crack team of researchers who've come up with a number of titles that players might want to consider checking.
Criteria for choosing a Halloween Slot
Our researchers settled on 7 Halloween slots for players to check out. In choosing these titles, our researches considered a number of factors. Chief among these is availability. What this means is that the Halloween-themed slots on this list are readily available from a wide selection of online casinos. Other than availability, our research team also considered the RTP of the Halloween slots in this list. Players can expect these titles to have relatively high RTPs which would in turn mean more chances of them winning their wagers. Of course, this shouldn't mean that we'll only feature titles that have high RTPs on this list. If a listed title doesn't have a high RTP, then it only means that it has gameplay features that can make gameplay extremely rewarding. Last but not the least, our researchers have made sure that the titles in this list are all aesthetically pleasing to play. This means that these Halloween slots get the imagery, sound, and atmosphere of the celebration just right to ensure a gaming experience that's immersive as it is rewarding.
7 Lucky Halloween Slots to consider
Halloween (Microgaming)
Lucky Halloween (Red Tiger Gaming)
Halloween Fortune (Playtech)
Wild Witches (Netent)
Happy Halloween (Play'n Go)
Frankenslot's Monster (Betsoft Gaming)
Pumpkin Smash (Yggdrasil Gaming)
Halloween
Developed by Microgaming
5 Reels, 50 Paylines
Features bonus rounds, free spins, scatters, multipliers
96.01% RTP
The original Halloween movie is arguably one of the most influential intellectual properties tied to the Halloween celebration. From movies to video games, the franchise recently found its way to casino games in the form of a Microgaming developed video slot. Released just a couple of days after the 2018 Halloween movie reboot, the title deserves a spot on the list in large part due to its features, availability, and RTP. As with a lot of 'flagship' Microgaming titles, the video slot boasts of a number of features that can help players win big. These features include the regular Wilds symbols that's are de rigueur for video slots developed nowadays. However, it's the video slot's special features that make it stand out from other similarly themed titles. The video slot has Bonus symbols that can activate a Trick or Treat Bonus feature which then allow players to get free spins or the chance to play another bonus game.
Graphics-wise, the video slot features imagery from the original Halloween movie as well as the celebration in general, that are sure to make players feel nostalgic. Complementing the high-quality graphics is the series' iconic background music. As for RTP, players will be happy to know that the video slot boasts of a 96.01% rate. Availability-wise, players should have no issues looking for this title considering a lot of online casinos make use of Microgaming software.
Lucky Halloween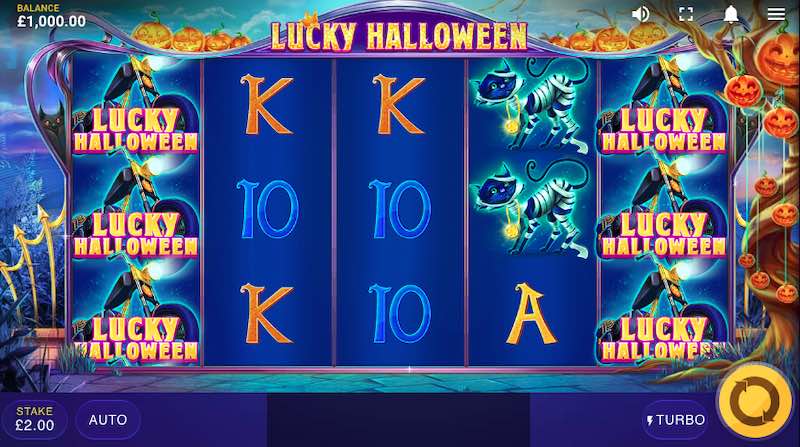 Developed by Red Tiger Gaming
5 Reels, 20 Paylines
Features Wilds, Free Spins, Bonus Games, Multipliers
96.16% RTP
Lucky Halloween is a Red Tiger Gaming developed title that should also interest players. Launched back in 2016, the video slot also boasts of a relatively rewarding RTP and features, great graphics, and widespread availability. The title has Mega Wild and Random Wild features (activated by the appearance of the Pumpkin Biker symbol) that can help improve players' chances of winning a spin. Other than this, the video slot has a Pumpkin Tree symbol that serves as a multiplier and a Bonus symbol that can trigger the Full Moon Bonus game.
While not as big or as popular as Microgaming, Red Tiger Gaming still enjoys widespread availability. Its even possible to find the developer featured along with NetEnt and Microgaming in an online casino's games library. When it comes to graphics, players can expect the video slot to feature Halloween-themed imagery. Spooky audio and background music also lends a little spookiness to the slot that's endearing. As of this writing, Lucky Halloween's RTP is set at 96.16%.
Halloween Fortune
Developed by Playtech
5 Reels, 20 Paylines
Features Wilds, Scatters, Free Spins, Multipliers, and Bonus Games
97.06% RTP
Halloween Fortune is perhaps Playtech's most popular and most generous Halloween-themed video slot. Much like other titles, this video slot has the standard 5 reels and 20 paylines. What makes the title stand out though is its regular and special features. These include 10000 coin jackpot (that can go up to 50000), Wilds, and a Brew Bonus that can activate a Bonus round that rewards players with 20 free spins.
Another draw of the video slot is its graphics and presentation. It features high quality 2D imagery associated with Halloween such as witches, pumpkins, lanterns, and potions. More importantly, Halloween Fortune boasts of a 97.06% RTP that ensures players will get paid back more the longer they play. Perhaps the only drawback with the video slot is that Playtech's availability isn't as wide-reaching as NetEnt's or Microgaming's. With that said, there are still plenty of reputable online casinos that feature this publishers' titles.
Wild Witches
Developed by NetEnt
5 Reels, 20 Paylines
Features Wilds, Scatters, Multipliers, and Free Spins
96.1% RTP
Wild Witches is a newly-released Halloween-themed video slot from NetEnt. A major draw for this video slot is the fact that it's readily available considering the number of online casinos that showcase NetEnt's software. As for features, players can expect the video slot to have Wilds, Multipliers, and Free Spins. It should be noted though that the video slot doesn't really have the bonus games that other entries in this list feature.
Graphics-wise, Wild Witches' depiction of witches is that of sexy and fun-loving beings (as opposed to the traditional child-eating women in fairy tales and legends). The witches as well as other graphical elements/images of the video slot are highly rendered. Audio and background music also complement the visuals perfectly. For RTP, the title boasts a relatively high rating of 96.1%.
Happy Halloween
Developed by Play'n GO
5 Reels, 50 Paylines
Features Wilds, Scatters, Free Spins
96% RTP
Developed by Play'n GO, Happy Halloween is a video slot that saw release back in 2015. Much like Wild Witches, the video slot doesn't feature any bonus games. With that said, this hasn't prevented from becoming one of the developer's most popular titles. While it might not have bonus games, the title does have Wilds as well as Scatters which can activate a Free Spins feature that can help players win a whopping 1000000 coins.
In terms of graphics, Happy Halloween features cute images of ghosts, witches, and other monsters associated with Halloween. Not only are these images beautifully rendered, they also feature animations that activate during spins and payline wins. The background music is also soothing and is a perfect complement for the visuals. In addition to these, a 96% RTP makes the video slot an even more compelling choice to play during Halloween.
Frankenslot's Monster
Developed by Betsoft
5 Reels, 20 Paylines
Features Free Spins, Bonus Games, Wilds, and Scatters
96.8% RTP
Frankenstein and his monster has been inextricably intertwined with the celebration of Halloween that it'd be unwise for us to not include this title. Frankenslot's Monster has been around since 2017 and has steadily grown in popularity since its release. A big reason for this is the title's rewarding features. These include the regular Wild symbols as well as special ones such as free spins (activated by Scatters), and a Bonus Round with a bonus prize of up to 25x the player's bet.
In terms of graphics, Frankenslot's Monster is arguably the best looking. The video slot features animated 3D models of Dr. Frankenslot and his monster. Other than this, the title's background music is a little more upbeat which surprisingly makes the wagering experience much more immersive. In terms of RTP, players can expect to get paid back 96.8% of their wagers the longer they play the video slot.
Pumpkin Smash
Developed by Yggdrasil Gaming
5 Reels, 20 Paylines
Features Wilds, Free Spins, Bonus Games, Multipliers, and Scatters
96.2% RTP
Pumpkin Smash is a Halloween and Day of the Dead-themed video slot offered by Yggdrasil Gaming. Released back in 2017, the video slot is notable for features such as Bonus Games, Free Spins, and Multipliers (in addition to Wild symbols). The Pumpkin prizes on the Pumpkin Smash bonus game include free spins, x2 to x7 multipliers, and 5-2000 coins. In terms of availability, players will likely find the video slot on online casinos that also feature NetEnt and/or Microgaming titles.
Aesthetically, Pumpkin Smash uses a lot of imagery from Mexico's Day of the Dead celebration (Mexican-themed skulls) and brilliantly mixes these with traditional Halloween imagery (the Pumpkin). The symbols feature rendering similar to what you'd find in Guacamelee! As for the video slot's audio and background music, it's a lot more chill and laid back (though it still has some haunting notes) compared with the other titles in this list. Players can expect a relatively high return for their wagers over time since the video slot's RTP is set at 96.2%.
Halloween Casino Bonuses
Now that you have a list of Halloween-themed video slots, the next thing you should consider is getting Halloween Casino Bonuses. Thankfully, we have an extensive list of these that you can check out. What's great about this type of bonus is that they're relatively generous as opposed to the regular bonuses online casinos might offer. Depending on the online casino, players can expect to get either free spins, match bonuses, or a mix of both. So if you're feeling lucky and happen to be preparing for Halloween then make sure to check out the plethora of Halloween Casino Bonuses we've prepared just for you.