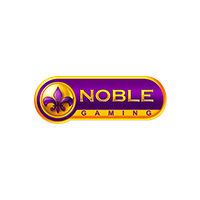 NOBLE GAMING SLOTS SOFTWARE
Find slots by Noble Gaming software
Based in the UK but with branches in the Czech Republic and Bulgaria, Noble Gaming has been around for 25 years. Like most companies its age in this industry, it stands out because it doesn't just limit itself strictly to game development. Aside from developing interesting and enjoyable classic slots, the company also is into the development and distribution of casino gaming hardware for use in brick and mortar/land-based casinos. More than just its focus on gaming hardware development though is the European company's promising foray into making enjoyable casino games (specifically video slots) for the burgeoning online casino industry.
Products and Games
While it already has an extensive library for its gaming hardware/VLTs, choices for its online casino titles aren't as robust. Of course, this is somewhat understandable considering the company's shift to online casino gaming started just recently. With that said, the video slots that they've developed so far have been pretty good in terms of graphics and gameplay.
Titles that players might have come across include Dynamite Wild, Thunder Wild, Break the Lines, Fruit Express, Gypsy Soul, Triple Big Fruits, All the Vogue, Temple of the Sun, Her Majesty's Knights, Grab da Loot, Mystic Forest, Dragon's Margin, Original Gang Star, Tahiti Breeze, and Burning Joker. Graphics-wise, these video slots are generally very colorful with most featuring 2D graphics. Due to the company also developing these for their land-based games library, the video slots don't have fancy features and animations. In terms of their gameplay, the majority of the video slots follow the 5-reels and 3-rows format. This means that players should have no issues understanding how to work these games. As for the paylines, players can expect the slots to have anywhere from 5 to 20 (or more) lines. In addition to the easy-to-use interface, the video slots also have special features like jackpots and Wild symbols (depending on the title) that make for exciting and rewarding gameplay.
Operators who might be interested in Noble Gaming's online casino games library should have no problems integrating these to whatever platform they may be using. This is thanks to the fact that the company opted to develop the games for HTML5. As for operators who're just starting out, the company can also help them develop custom solutions targeted at specific markets from scratch.
Summary and Conclusion
Perhaps the only issue operators might have with Noble Gaming's casino library is the fact that they games aren't as jaw-dropping graphics-wise when compared to recent offerings from other companies. With that said, the games' gameplay more than make up for their aesthetic shortcomings. In terms of flexibility, online casino operators might also like the fact that the company developed its games using HTML5. Thanks to this, even if an online casino operators is currently tied down to a different platform, he/she will have no issues integrating the company's entire casino games library. Curious about the other products and services offered by Noble Gaming? If you're an online casino operator then you're encouraged to check out their official. For players, there are demos of the company's games that can be played for free on sites like SlotsMillion.
read more