BOOMING GAMES
RTP: 94.30% to 97.10%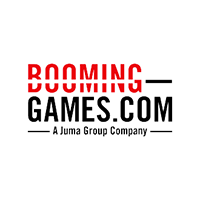 BOOMING GAMES SLOTS SOFTWARE
Find all slots by Booming Games software
Established in 2014, Booming Games has shot up to the top as one of the best casino gaming developers today. Headquartered at the Isle of Man, the company's success has allowed it to expand its offices to locations like Manila and Athens. Even though it's relatively new in the industry, the company boasts of having some of the most talented and creative minds in the online casino gaming industry. As a result, games in its library have now climbed past 50 with no indication that they'll stop developing more titles any time soon. With that said, what can operators and players expect from the company's games though?
Products and Games
Prospective online casino operators will be happy to know that the Booming Games currently has more than 50 titles in its library. A majority of these titles are video slots that boast of having rewarding features and unique yet enjoyable gameplay.
Some of the titles that the company has released as of now include Zoodiac, Lotus Love, Lucky Mai Tai, Joker's Wild, Cinco de Mayo, Flaming Dragons, Cherry Bomb, Chow's Chance, Ice World, Kawaii Dragons, Sweet Robots, Galactic Speedway, Harvest Fest, Gangster Gamblers, and Desert Drag (just to name a few). In terms of their graphics, quality usually differs from title to title. There are games that feature 2D graphics reminiscent of older video slot titles. Additionally, players can also find titles like Gangster Gamblers that feature HD graphics and assets. As for gameplay, a majority of the video slots are of the 5-reel, 3-row variety. However, there are also unique titles with more unconventional 4-reel, 4-row variants. Much like the reel variations, paylines for the individual video slots also differ. Some titles can offer players paylines as low as 5 while others can have 16 or more. In terms of performance, these games should have no problems running on older hardware so long as these have browsers that can support HTML5 and/or Flash.
Another feature of Booming Games' titles that players might like is their interface. Players will be glad to know that the each of the company's games have overlay tutorials that crop up once they (the games) are opened. This means that beginners and seasoned online casino players alike will have a relatively easy time navigating through the video slots' myriad of buttons. As for RNG, the company's games have undergone and passed the rigid testing standards of iTech Labs. This means that players can expect unpredictable and fair results with the company's games.
Summary and Conclusion
While they might seem like one, Booming Games is more than just a company that develops online casino games. Since the company develops its titles on HTML5, operators shouldn't have any issues with integrating them to whatever platform they might currently be using. Operators who are thinking of starting an online casino from scratch could also benefit from customized solutions that the company offers. And with the Booming Games platform's versatile API, operators can easily scale up their online casinos by integrating games from other developers. For operators who might be interested, the Booming Games official website is a good place to start knowing more about the company's products and services. As for players who're interested in testing out the company's games, Ask Gamblers has a number of demos that they can try out for free.
read more